Christmas Meeting Saturday 23 December 2017
Colts and Fillies members enjoyed a festive treat before racing at our special brunch with guests Father Christmas and Scotty. A delicious brunch was available for the children to enjoy and Mother Christmas read a special Christmas story. Father Christmas and Scotty popped by and were delighted to hear that all the children at the brunch had been good this year so they each received a special early Christmas gift.
Out on the track we saw some wonderful Jumps racing with Sam Spinner winning the Long Walk Hurdle and providing trainer Jedd O'Keeffe with his first Grade 1 winner.
Away from the track the children enjoyed some festive fun starting with the arrival of Father Christmas and a whole cast of Christmas characters. The racecourse hosted a giant candy cane trail with festive treats along the way and a stop by Father Christmas's office where his elves were busy distributing gifts.
Rudolph and his friends could be found on Animal Avenue alongside Huskies and ponies for riding. With fairground rides, face painting, Jugglers and balloon modellers there was plenty of fun for everyone.
Throughout the day there were appearances from Scotty, our club mascot, the Ascot Greencoat teddy, Rudi the Reindeer and even a giant walking Christmas present! The day ended with a Christmas Carol Concert in the Grandstand with lots of Christmas cheer and audience participation.
Firework Spectacular Family Raceday - Saturday 4th November 2017
Ascot's first meeting of the new 2017/2018 Jumps season was great fun for our Colts and Fillies members. There were seven races to enjoy during the afternoon and trainer Jonjo O'Neill won the £100,000 Sodexo Gold Cup Chase with Go Conquer. Free junior racecards were available to club members to help them make the most of the racing.
Down on the plaza lawns there were thrills and excitement on the fairground rides where the brave could enjoy the Sizzler Twist and get dizzy on the waltzers. Younger racegoers could enjoy some gentler rides, including the pony variety, and the dodgems proved popular for the whole family.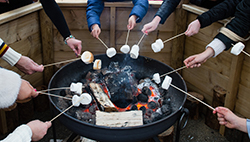 Guy Fawkes Bonfire Garden told the story of Guy Fawkes and there was an opportunity to build a Guy and be surprised by our knock-a-doors if you dared to give them a tap.
A group of Colts and Fillies Members attended a special behind the scenes tour and after racing 150 members attended an exclusive science show where our scientists wowed the crowd with their crazy experiments.
The evening highlight was a charity firework spectacular in association with Ascot Round Table. Everyone gathered in the grandstand to watch the fantastic fireworks which was a great finish to our family fun day.
Summer Mile Family Raceday - Saturday 15 July 2017
The morning rain gave way to a dry afternoon as families headed to Ascot for the Summer Mile Raceday. There were eight exciting races out on the track with Mutakayyef taking the group 2 Summer Mile for trainer William Haggis and jockey Dane O'Neill, giving them back to back victories in this race. Earlier in the day children took centre stage with 2 pony races, it was great to see them on the Ascot turf and we may just have seen some of the jockeys of the future.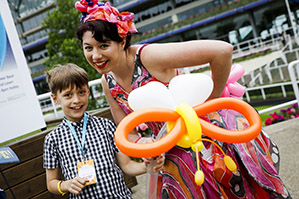 Younger visitors could enjoy our Teddy Bear's Picnic area where there were visits from Paddington Bear, Cheer Bear and the Ascot Greencoat bear. Paddington Bear took time out to read stories and Colts and Fillies members could decorate a Teddy Bear Biscuit or two!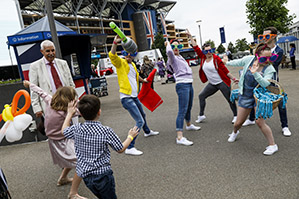 Rosie Tells Tales hosted a Big Bear Hunt bonanza with a lively exploration of the beloved story by Michael Rosen. Children enjoyed splashing and squelching through the story as it was brought to life with drama, games, sounds and silliness with help from a trusty team of explorers.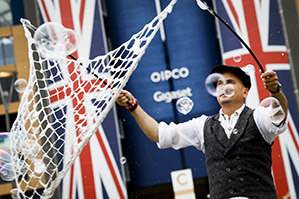 The fun summer festival on the carnival stage hosted wicked workshops and super shows, with lots of audience participation. From singing, circus skills, magic workshops and dancing there was something for everyone and the farewell party had everyone up on their feet.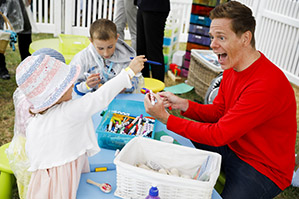 Art Attack's Lloyd Warbey was overseeing the creations made in the children's craft area and with fairground rides, face painting, soft play and Pony Rides there was all the ingredients for a relaxed family day out.
The Spring Family Raceday - Sunday 02 April 2017
The Spring family raceday featured an afternoon of Jumps racing along with a range of countryside activities to keep the whole family entertained. During the afternoon a group of Colts and Fillies members were taken on a trip to the start so they could see a race from an entirely new perspective and with free Junior Racecards for members there was an opportunity to learn more about the sport.
Colts and Fillies Members Luke and Amelia did a fantastic job of representing the Club in our sponsored race, picking the Best Turned Out horse and presenting mementoes to the winning Owner, Trainer and Jockey. While our club gardening area enabled all members to decorate a pot and plant a spring flower to take home.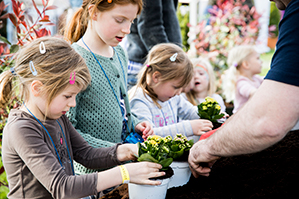 In the main arena there were entertaining performances throughout the afternoon including The Lamb National, a stunning falconry exhibition and ferret racing. Demonstrations from gun dogs and sheep dogs were also enjoyed by the spectators.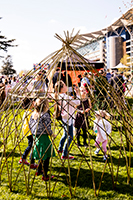 There were guest appearances from the Gruffalo and Peter Rabbit. Scotty, the Ascot Mascot, was on hand to ensure all the children were having a good time and away from the main arena were pony rides, face painting, arts and crafts, balloon modellers and jugglers. Children could also get close to the animals in our petting zoo.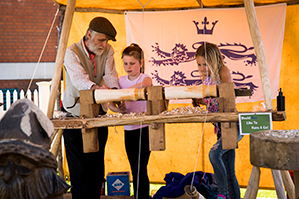 The agricultural zone allowed participation in bee and honey making workshops, flower arranging, bygone country skills and willow bank igloo making. Amazing tree art was produced by the chainsaw carver and there were foraging demonstrations and a chance to learn all about hedgehogs.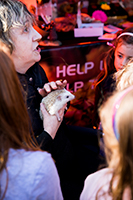 With warm sunshine throughout our Spring family day provided a great day out for the whole family.