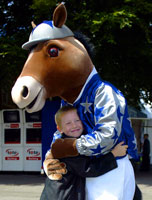 Ascot Racecourse launched the Colts and Fillies club in 2002 with the aim of making horse racing more accessible to our younger audience. We currently have around 15,000 members and strive to make racing interesting, educational and fun. The Club is FREE to join to all children aged seventeen and under and all activities are FREE of charge. The benefits include:
A Membership Pack including a metal membership badge, a pen and welcome booklet.
A Colts and Fillies baseball cap to collect on your first visit to Ascot.
Owning a racehorse with the Club horse. Opportunities to visit our horse at home and represent the club as an owner when it runs.
Dedicated family days each year which provide a wide variety of entertainment for all the family. (Visit the events section for details on each raceday).
Raceday entertainment exclusively for Colts & Fillies members.
Learning about racing with behind the scenes tours, trips to the start, jockey workshops and junior racecards designed especially for younger racegoers.
A chance to meet and have your picture taken with Scotty, the club mascot.
Regular E-Newsletters with all the latest news, events, competitions and visits.
Trips on non racedays to equine attractions, trainer's yards and stud farms.
Competitions for prizes, days out and special events.
Most exclusive activities require you to show your Colts and Fillies badge so please remember to bring your badge when you come racing to avoid disappointment. For replacement badges please see the lost badges section.

We look forward to seeing you soon! The Colts and Fillies Club is free to join and open to children aged seventeen and under who live in the UK.