Firework Spectacular Family Raceday 2021
Ascot's first meeting of the new 2021/2022 Jumps season, and our first family day since 2019, was great fun for our Colts and Fillies members. There were seven races to enjoy during the afternoon and trainer Gary Moore won the £100,000 Bateaux London Gold Cup Chase with Larry.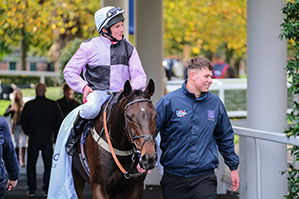 Down on the lawns the brave could enjoy thrills and excitement on the white-knuckle fairground rides while younger racegoers could enjoy some gentler rides and the dodgems proved popular for the whole family.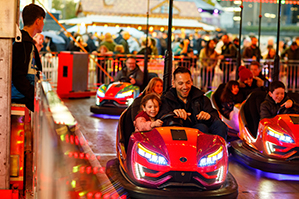 As it was All Hallows Eve, we were getting preparations underway for a frightfully fun Halloween. There was creepy crawly animal handling, pumpkin carving, spooky themed arts and crafts and a slippery slime workshop. As a real treat our younger racegoers were able to enrol in Magician School where they learnt a few tricks of their own!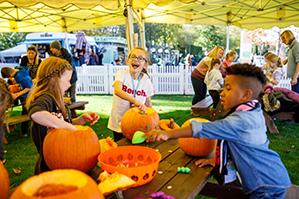 A group of Colts and Fillies Members won the chance to go on a trip to the start where they could see the horses up close and then catch them jumping a fence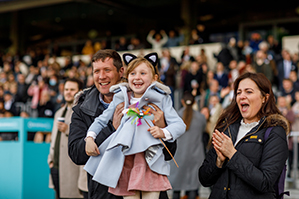 The evening highlight was a charity firework spectacular in association with Ascot Round Table. Everyone gathered in the grandstand to watch the fantastic fireworks which was a great finish to our family fun day.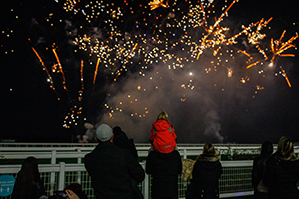 Christmas Meeting Saturday 21 December 2019
Colts and Fillies members enjoyed a festive treat before racing at our special brunch with guests Father Christmas and Scotty. A delicious brunch was available for the children to enjoy and Mother Christmas read a special Christmas story. Father Christmas and Scotty popped by and were delighted to hear that all the children at the brunch had been good this year so they each received a special early Christmas gift.
Out on the track we saw six exciting Jumps races with The Worlds End winning the Marsh Hurdle race for trainer Tom George and Jockey Adrian Heskin.
Away from the track the children enjoyed some festive fun starting with the arrival of Father Christmas and a whole cast of Christmas characters. During the afternoon there was the chance to hear stories from Mrs Christmas, meet characters Rudi the Reindeer and the Madagascar penguins and marvel at Bjorn, the incredible life-sized animatronic polar bear and his Inuit handler.
Rudolph and his friends could be found on Animal Lawn alongside owls, birds of prey and ponies for riding. With fairground rides, face painting, Jugglers and balloon modellers there was plenty of fun for everyone.
Throughout the day there were appearances from Scotty, our club mascot and the Ascot Greencoat teddy, The day ended with a Christmas Carol Concert in the Grandstand with lots of Christmas cheer and audience participation.