September 2020
Unfortunately, Miss Matterhorn sustained a little fracture earlier this year and although it has mended she has needed to rest and recover. We hope she will be back in training shortly with the aim of running on the all weather over the winter.
January 2020
Miss Matterhorn has now turned 3 and has grown and matured since last year. She is currently back in work and we hope she will be ready to run in the Spring. Keep an eye out for e-newsletters for opportunities to join us on a stable visit and support Miss Matterhorn as an owner when she races.
28 September 2019
A group of Colts and Fillies members visited Eve Johnson Houghton's yard today, we got to say hello, to Miss Matterhorn, watch the horses on the gallops, look around the yard and learn all about training a racehorse.
September 2019
It has been decided to give Miss Matterhorn the rest of the season off and then bring her back to race as a 3 year old next year.
August 2019
The recent dip in form seems to stem from a breathing problem so Miss Matterhorn has now had a routine breathing operation, she has come out of the operation well and is recovering back at home.
06 August 2019
Miss Matterhorn didn't have the best run at Newbury today, finishing 8th.
18 July 2019
Miss Matterhorn traveled to Leicester today but didn't put her best foot forward finishing 7th of 8.
22 June 2019
WINNER! Miss Matterhorn returned to Lingfield and stepped up to 7 furlongs, she broke well and ran a great race to win under a fantastic ride from Georgie Dobie.
30 May 2019
A group of Colts and Fillies members enjoyed a day at Lingfield supporting Miss Matterhorn on her third run. Stepping up to 6f this time she ran a great race finishing 2nd in a photo finish. Having now ran 3 times she has finished 4th, 3rd then 2nd - can she get the win next time?
13 May 2019
Another lovely run from Miss Matterhorn finishing 3rd at Wolverhampton over 5f.
30 April 2019
Miss Matterhorn's debut race at Brighton saw her finish 4th of 8 runners. The first four home finished very close with just a neck,neck and a head separating them. A great start!
12th April 2019
A wonderful day spent with the Woodway team and a group of Colts and Fillies Members meeting our new horse and learning all about her training. Miss Matterhorn is coming along nicely and should be ready to run within the next month.
March 2019
Miss Matterhorn has started to canter and has been learning all about the stalls. Eve is pleased with her progress and we hope she will be ready for her first run in May.
February 2019
Thanks for all the wonderful suggestions for the name of our new horse, I am delighted to announce she has been named Miss Matterhorn.
January 2019
Miss Inga Sock, the club horse from 2014 - 2018 has been retired from racing. She will enjoy a well earned rest and enjoy some time in the field before moving on to the next stage of her life.
During the 5 years we had her we have visited numerous racecourses to cheer her on and were rewarded with 5 wins, 3 seconds and 6 thirds.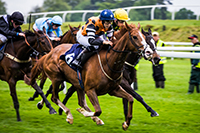 5 December 2018
Another good run from Miss Inga Sock today at Lingfield, she set off in midfield progressing from 2 furlongs out and staying on in the final furlong. The first 6 home finished together with little distance between them so an encouraging result.
24 November 2018
Miss Inga Sock ran at Wolverhampton this evening and finished 6th out of 11 runners, with less than 2 lengths separating the first 7 home.
25 September 2018
The dry summer resulted in firm ground which does not suit Inga so we were unable to see her running as much as usual this summer. However, she is fit and well and had a run today at Lingfield. While she didn't challenge the leaders she will be better for this run and we hope to see her out again shortly.
07 August 2018
Today we visited Eve Johnson Houghton's yard to for a stable visit. We met our horse, Miss Inga Sock, and watched her work on the gallops before watching some of the younger horses canter. We also got to say hello to the broodmares and youngsters in the field which was a particular highlight for some members.
Will Ready, who has worked at the yard for 49 years, showed us round the facilities including the yard, starting stalls, covered school and horse walker - which some members tried out! We also visited the feed room, tack room and colours room with time to meet some of the horses before the vised ended.
A great day out and a great overview of stable life.
02 June 2018
Miss Inga Sock returned to Chepstow this evening to run over the slightly shorter 1m 2f. There were 10 runners in the race and Inga was slow to start and remained in the rear throughout. Her jockey Georgia reported that she banged her head on the starting stall in anticipation of them opening and this may explain her run. Happily she has returned home safe and well and does not have any ill effects from her bump.
15 May 2018
This evening Miss Inga Sock had her first run of the season at Chepstow over 1m 4f. There were 12 runners in the race and Inga finished 5th. Keep an eye on your emails for details of her next run and how you can enter the draw for owners tickets.
12 May 2018
Miss Inga Sock is a non-runner at Lingfield today due to the firm ground.
16 October 2017
What a fantastic season Miss Inga Sock has had winning 4 times and notching up 2 third places and a fourth. Inga will now have a break over the winter before coming back into training early next year.
16 September 2017
Miss Inga Sock travelled to Lingfield Park today and Colts and Fillies members were there to cheer her on. Georgia Cox, who has won on her 4 times this year, was riding and she was trying the slightly longer distance of 1m 3f. Unfortunately, Miss Inga Sock lost her shoe during the race but she kept going to finish 4th.
4 August 2017
Today a large group of children visited Eve Johnson Houghton's yard to see our horse and learn about training racehorses. As Eve had runners elsewhere we were looked after by Will Ready who has worked at Woodway for 48 years, it's safe to say he knows everything about training horses!
First we got the chance to see Inga who was having an easy day after winning at Epsom last night. However, she was not too tired for lots of well done pats, attention and photos and members enjoyed meeting her.
After that we walked up to the beautiful downs to watch the horses work before enjoying a tour of the yard, hearing all about the training regime and meeting some of the other horses.
3 August 2017
Winner! Miss Inga Sock took the Steve Donohue Apprentice Handicap at Epsom over 1m 2f by a nose!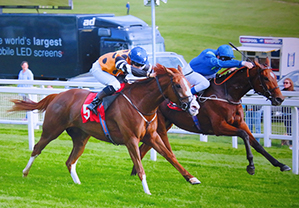 Cheered on by club members she made headway 2 furlongs from home and battled on all the way to the line. Once again ridden by Georgia Cox this pair have won 4 times this season.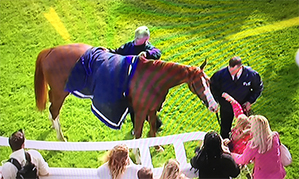 26 July 2017
A group of Colts and Fillies members visited a wet and windy Sandown to support Inga this evening, setting off towards the rear Inga made headway on the outside but faded over the last furlong finishing 6th of the 10 runners.
27 June 2017
Leicester was tonight's destination where Inga ran in a 1m2f handicap, despite not getting a clear run through the final furlong she finished 3rd taking her tally this season to 3 wins and 2 thirds.
10 June 2017
Inga has returned fit and well after yesterday's win and has spend the day relaxing in the paddock.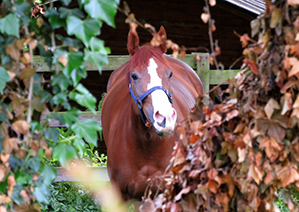 9 June 2017
Winner - Just three days after her 3rd place at Chepstow Miss Inga Sock returned to Brighton for a 1m1f handicap. Once again ridden by Georgia Cox she took the lead going into the final 2 furlongs and held on gamely to win by a neck.
6 June 2017
Miss Inga Sock returned to Chepstow today for a 1m 2f handicap. Ridden by Georgia cox she ran another good race to finish 3rd, only being caught for 2nd close to the line.
16 May 2017
WINNER - Again! Miss Inga Sock today made it back to back wins when she won at Chepstow this evening. Again ridden by Georgia cox she took the lead in the final furlong and stayed on to win by half a length. What a great start she has made to the 2017 season.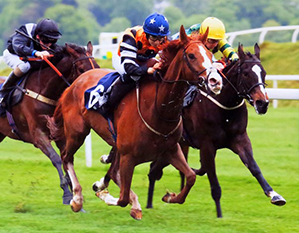 02 May 2017
WINNER! Today Miss Inga Sock travelled to Brighton for the Donatello Apprentice handicap over 1 mile 2 furlongs. Ridden by Georgia cox she took the lead 1 furlong out and although she was joined close home she did enough to keep her head in front and win her first race this season. Well done Inga.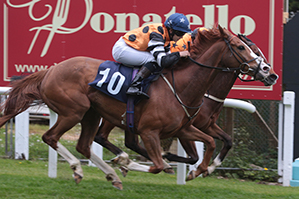 20 April 2017
Today Miss Inga Sock travelled to Cheltenham Racecourse to take part in a Charity race being held by The Bob Champion Cancer Trust and Hannah's Willberry Wonderpony Charity. Inga was ridden by Ali Dane who is more used to riding dressage horses than racehorses and has been riding out regularly at Eve's in preparation for the race. The distance was a little long for Inga but she kept going giving Ali had a great experience and helping to raise funds for these two great charities.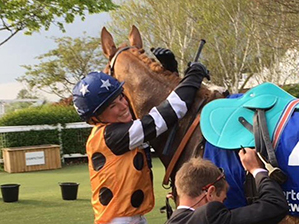 7 April 2017
A large number of Colts and Fillies members arrived at Woodway today for our first visit of the year to see our racehorse. We said hello to Inga and watched her being saddled before setting off to the gallops to watch her work, we also got to see a number of the two-year olds on the gallops and learn about how the new youngsters were getting on.
We then enjoyed a tour of the facilities and learnt about how racehorses are trained and cared for.
Inga is looking well and will be taking part in a Charity Race at Cheltenham in a couple of weeks. Keep an eye out for an E-newsletter for a chance to support her at Cheltenham.
February 2017
Inga is now being ridden and we hope she will be ready to run around April/May.
January 2017
Having enjoyed her winter break Inga is now going on the horse walker with a view to getting her ready to run in the flat season.
November 2016
Miss Inga Sock is now having a break and enjoying some down time out in the field.
10 October 2016
Today Miss Inga Sock ran in the 3.50pm race at Salisbury finishing 3rd under George Downing.
4 October 2016
Today we travelled North to Leicester where Miss Inga Sock, again partnered by Sophie Killoran, ran in an apprentice handicap over 7f. She was a little unlucky today, not getting a clear run and finishing 6th of 12 runners.
26 September 2016
Miss Inga Sock ran today in a 1m handicap at Bath. Ridden by Sophie Killoran (7) she set off in mid-division before making headway 2 furlongs out and staying on in the final furlong to finish 3rd of the 14 runners. Well done Inga!
07 September 2016
This evening a group of Colts and Fillies members went to support Miss Inga Sock at Kempton Park. She ran over 7f on the all weather track finishing 6th with George Downing on board. She holds an entry at Brighton on Monday 12th September so Eve will see how she is after last night's race before deciding if she will run on Monday.
04 August 2016
Today Miss Inga Sock ran in a 6f race at Brighton, the sun was shining, Jim Crowley was on board and Inga was 9/4 joint favourite. Colts and Fillies members were in attendance to cheer her home but alas today was not her day and she didn't put her best foot forward. Eve, our trainer, spoke with the jockey and reported back that Inga found the ground a little too firm for her liking. With this in mind Eve is going to give her a little break with the plan to run her towards the end of the flat season when the ground should be a little more forgiving.
26 July 2016
Today was the chance for a group of Colts and Fillies members to visit Inga at home and learn about how she is looked after and trained. We watched her saddled up before heading to the all weather gallop to see her work with the other fillies, it was great to get such a close view of the horses streaming by.
We then had the chance to look around the yard, the children had great fun testing out the starting stalls and horse walker before looking at what the horses eat and the raceday room which contains all the colourful silks and racing tack. Finally, we got to meet the other horses in the yard and hear about future running plans.
A great day.
16 July 2016
A group of Colts and Fillies members watched Miss Inga Sock finish 4th at Lingfield Park this evening in a 6f amateur rider's race. Inga was ridden by Miss Jana Spinkova who regularly rides out for Eveand was having her first ride under rules.
22 June 2016
A return trip to Bath saw Miss Inga Sock finish 6th over 1m.
27 May 2016
Miss Inga Sock ran at Bath over 1m today finishing 4th with Charles Bishop in the saddle.
18 May 2016
A large group of Colts and Fillies members made the trip to Kempton on a rather damp evening to see Miss Inga Sock run, we were lucky enough to have a box from which to view and keep warm. Inga ran in the 5th race over 7 furlongs with George Dowling in the saddle, she broke well from the stalls and made headway up the inside to take the lead over 1furlong from home, unfortunately she was headed and finished about 3 lengths back in 7th place. It was an exciting race for the owners and I think we definitely won the prize for the loundest shouting up the home straight!
26 April 2016
Miss Inga Sock ran at Bath over 1m and finished 5th of 15 runners.
06 April 2016
Inga travelled to Lingfield today for her first run of the season in a 1M Fillies handicap. She finished 4th of 4 runners but with under 2 lengths seperating 1st and 4th it is nothing to worry about. She will come on for her first outing and will be running again soon. Keep an eye on the entries page for her next race.
01 April 2016
A large group of Colts and Fillies members visited Inga at home today, we were able to say hello to her before watching her work on the gallops and then we enjoyed a tour of the stables.
We are all looking forward to seeing her run shortly.
February 2016
We are delighted to report that Miss Inga Sock has recovered from her sinus infection and is now being ridden out and doing well. We hope she will be ready to run in April.
January 2016
Miss Inga Sock will continue to run for the Colts and Fillies Club in 2016 and we hope she will be ready for her first race in the Spring.
2015
Miss Inga Sock strengthened up over the winter and began her 3 year old career with a very close 2nd place at Bath in April. After a run on the all weather which she didn't seem to enjoy we had a winner! Inga travelled to Brighton in early June and won a 7f handicap under a great ride from apprentice Jockey George Dowling. During 2015 she had 8 races and only finished out of the places on 2 occasions. We ran several trips to see her at home and cheer her on at the track and we definitely had fun following her this season.
In September Inga had a sinus infection, even with treatment from the vet and daily nasal flushes it was struggling to clear so it was decided that she would break for the winter and come back into training the following year.
2014
As our new horse had not raced she needed a name so we turned to the club members for suggestions. We received a number of ideas, they were funny, creative and sometimes a little strange but one stuck out, Miss Inga Sock. When you look at our horse with 3 white socks it is clear to see she is indeed missing a sock! She became Inga for short and was delighted to meet lots of her new owners during the year, she really was a very laid back 2 year old.
She wasn't an early type so it was August before she got out onto the track, we had 3 runs over 5, 6 and 7 furlongs and she was placed in her first 2 races which was a great start. Unfortunately, towards the end of the season she was not very well. She had to have an operation to remove some bone chips from her knee and then had very bad colic (tummy ache). Fortunately, she recovered from her colic and enjoyed the winter off before coming back into training as a three year old.